Inside Country Burgers, people are friendly and everyone talks across tables like they are family. A couple and their young son from Ohio are on the road, touring the national parks in a large RV. Two older gents tell us to take U.S. 14 because it's the most scenic route through Wyoming, connecting Yellowstone Park in the west and South Dakota in the east.
The menu is nothing fancy. Down home.  Real food. Much more than Burgers and Fries, specials change every day. One special is called the Ditch Digger. On Sunday, you can get a full Turkey Dinner for $12. Steak night is on Friday, Wednesday features Carne Asada with tacos, beans & rice, chips and salsa, and fresh fried catfish is on the menu every night. Just in case you're wondering, I order the fried pickles and onion rings. Sinfully delish! Before long I'm talking to the waiter who turns out to be the owner, Shawn McCoy. He and his partner Jill Watts opened Country Burgers on Nov 1, 2016. Not even a year old, this restaurant was a startup!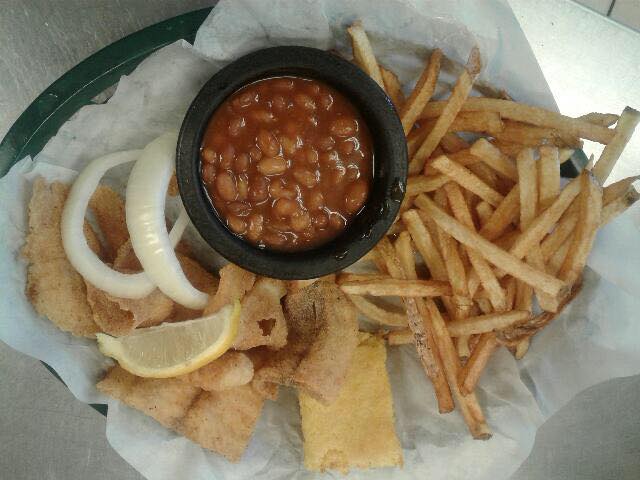 Jill Watts is from a long line of ranchers and Shawn McCoy is a seasoned a rodeo guy.  The trailer site for Country Burgers had once been a Mexican Restaurant that had remained vacant for way too long. Jill said every time she and Shawn drove by the old restaurant, Shawn said he had a dream to open his own place. His dream kept growing and soon became an action plan. Jill said they worked around the clock for three days and forty-five hours straight without sleep to get the place ready to open. Since then business has been booming. And it's all word-of-mouth.
Country Burger's customers come from Farson, a town so small that the Farson-Eden School, a K-12 campus, serves double-duty as a school and a community social center.  Other customers come from the oil industry and tourists passing through.
Farson, Wyoming has a Population of about 300, but the oil industry brings in lots of workers. Oil jobs might be physically demanding but they are financially lucrative. After a long day of working on an oil rig, what better way to chow down than to get a delicious home-cooked meal at Country Burgers?
Country Burgers is only the beginning for Shawn McCoy and Jill Watts. True entrepreneurs, they saw a need in the community for good food and made it happen. They both hinted at grand plans to build other new businesses in the near future, and it might be something big.  Seems like Country Burgers is a fine example of what Americans can do when they have true grit and determination.
Country Burgers Serving breakfast, lunch and dinner.
Open 7 days a week.
You can get breakfast anytime.
Semi parking
Like them on Facebook
‪5 Basco Ave, Farson, WY 82932-8812 (307) 273-3036