"Blues comes from experiences." – Shelly Ritter 
For decades now, musicians have been reaching back for inspiration to what has become known as the "Delta Blues" or the "blues." The "blues" is a genre of music that developed over the last century in the United States and can be said to evoke a poignant commentary on life in the rural Southern part of the country. In particular, it relies on feelings of despair, rejection, bad love, and the misery of life on slave plantations.
So, how has this form of music become so well-known and loved around the world? Many of its early practitioners including Muddy Waters, Robert Johnson, Howlin' Wolf, Mississippi John Hurt, Lead Belly, Son House, John Lee Hooker, Willy Brown, Bukka White and others, sang and wrote songs that described this "misery." They were actually recorded by itinerant recordists like Alan Lomax, Sam Phillips and Ralph Peer (who recorded the Carter Family in Bristol, Tennessee). 
Many of Alan Lomax's recordings were made in the 1930s. Later, in the late 1940s and 1950s, Moses Asch, founder of Folkways Records, recorded the likes of Sonny Terry and Brownie McGhee, as well as folk artists like Pete Seeger.
There were several ways the blues music of these early players and songwriters came to the forefront of our musical heritage. Probably the most recognizable performer to cover African-American blues music was Elvis Presley. In the mid 1950s, people were not listening to many of the original blues players; but Elvis, because he was white, made it "acceptable" to listen to blues music and Southern gospel music as well. 
Of course, there were other white musicians who contributed. And, during the 1960s, interest in Delta Blues music began to take off with people like Paul Butterfield, Charlie Musselwhite, Stevie Ray Vaughn and Mike Bloomfield. Many of these players like Muddy Waters, traveled north during the Great Migration along with many people who were looking for jobs in industrial cities like Chicago. So, the "Chicago Blues" developed much along the lines of the Delta Blues. Butterfield and Bloomfield teamed up to cover many of the Southern migrants' sounds. 
As we were listening to the likes of Little Richard, Chuck Berry, Gene Vincent, Chubby Checker, Blind Owl Alan Wilson, et. al., and moving from the old Delta Blues to more of a rock 'n' roll sound, British musicians like Clapton, Lennon and McCartney, John Mayall and Jagger and Richards were being influenced by our early blues artists. Clapton, in particular, picked up Robert Johnson's "Crossroads Blues," and gave it a much more "up-tempo" sound which appealed to a broader audience than did the original. 
As recording technology got better (some early recordings were done on wire cylinders before vinyl records could be "cut"), the sound improved and the blues genre became more popular.
In an effort to experience the land and some of the people for myself, I set out on a journey that eventually took me to Clarksdale, Mississippi, and to Memphis and Nashville, Tennessee. Clarksdale is the home of the Delta Blues Museum, which has been a repository for many original recordings and memorabilia of this important genre. Founded in 1979 and revamped in 1999, it has become Mississippi's oldest museum dedicated to the Blues genre. 
Its mission statement reads: "The Delta Blues Museum is dedicated to creating a welcoming place where visitors find meaning, value, and perspective by exploring the history and heritage of the unique American musical art form of the blues."
The museum itself is a long, brown, brick building that houses a vast amount of memorabilia from all the great bluesmen. It is the former Yazoo Mississippi Passenger Freight Depot circa 1914.  It was renovated in 1999 to house the museum.  A 7300 square foot addition was added in 2012. There is even a partially reconstructed cabin made from the boards of Muddy Waters' home.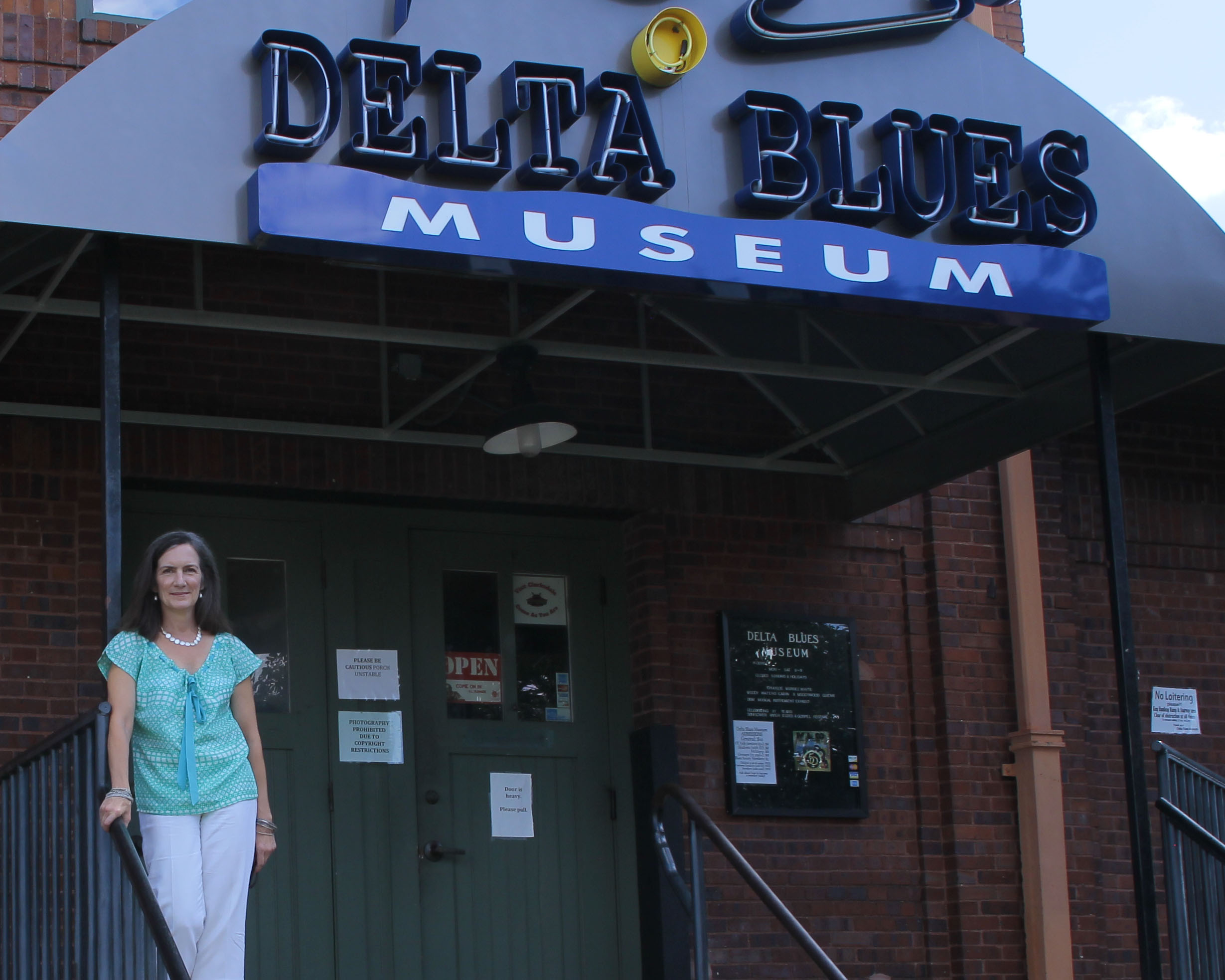 Shelley Ritter is a native Southerner, born in Memphis. She currently presides over the museum in Clarksdale and has held that post since 2003. She previously worked for the Mississippi Department of Archives and History as a Field Services curator and also for Elvis Presley Enterprises. She has a musical background, having taken years of piano lessons and, of course, she credits Elvis with providing her with inspiration! 
She was initially attracted to the blues by hearing Presley's "Sun Sessions," recorded at Sam Phillips' famous Sun Studios on Union Avenue in Memphis. She saw Muddy Waters perform at the Delta Blues Festival, which also impressed her. Ms. Ritter says that she was attracted to the blues because of its "primal roots feeling" and the sounds simply resonated with her. Once the blues became more popular, she decided to try to promote it further.  
Ritter has taken strides to popularize both the blues and the museum as well. She works hard at writing grant proposals and seeks funds for the museum from many different sources. She sees her future with the museum as providing more exhibits so that coming generations can get a feel for the blues as well as a deeper appreciation for how the music developed over the decades. "Blues comes from experiences," she says. She wants visitors to the museum to come away with an understanding of what these experiences were and from whence they came. 
There are also concerts at the museum, which has an outdoor stage where people can come and sit on the lawn to enjoy the music. Additionally, people visiting Clarksdale, can enjoy authentic Delta Blues music in the various clubs which present live music seven days-a-week. While visiting, several couples from places as far-flung as Germany, Italy and Spain were there as well. 
Clarksdale is an amazing town. As a center of Delta Blues history, it has the feel of a rural, Mississippi town, but with a warmth and humanity among its people that is quite infectious. 
William Lulow is a commercial portrait and corporate photographer in the Greater New York Area. He is also a certified teacher of photography having been an adjunct professor at New York's New School For Social Research. He publishes daily blog articles on photography. His goal is to raise people's awareness of photographic principles in order to better their photographic efforts.