As Owner and Creative Director of Shirin Chic Design, Shirin Barekatein is the only designer in the Northwest area who brings gilded beauty to the table, where her every design is steeped in the opulence of the Persian tradition. Shirin puts together beautiful presentations—that is only one aspect of what makes her unique among designers.
For years, Shirin has designed the tables for the Persian New Year's celebration, known as Nowruz. The Persian New Year, Nowruz, predates both Christianity and Islam, and is celebrated worldwide on March 21st. This past Nowruz, Shirin designed lavish celebratory tables for the city of Seattle, the city of Kirkland and the University of Washington. All three tables were designed with the formal style of Sofreh Aghd presentations that are customary at Persian Weddings.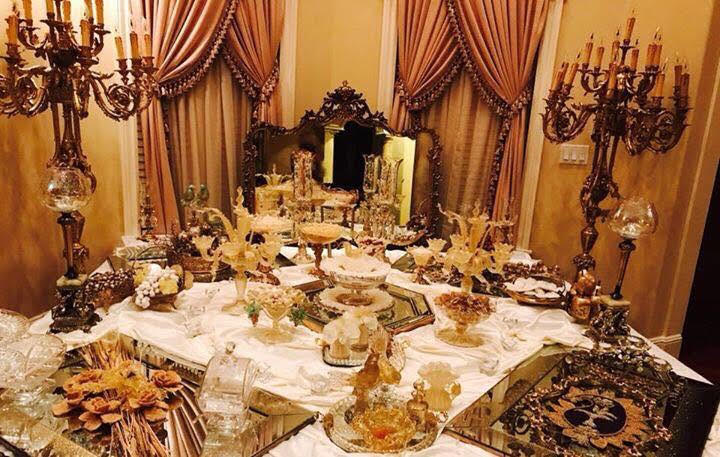 Sofreh Aghd spreads are ceremonial traditions that have been practiced for thousands of years. "Sofreh" means "spread" and "aghd" means "ceremony." Traditionally reserved for weddings, Sofreh Aghd encompasses much more than design, but also includes a feast of symbolic foods that represent the sweetness in life and portends future happiness for the bride and groom. This elaborate ceremony is intended to honor all of the celebrants and especially the bridal party, and their families, who are being joined together during this very special occasion.
Northwest Fashion Designer Monir Zandghoreishi noted, "The ability to create Sofreh design is especially important for weddings. We don't have any one in Seattle to do presentations for Persian weddings. When my daughter married, I had to do everything by myself.  It's very important for Persian parents to have this for their daughter.  They have to find designers from San Francisco or LA."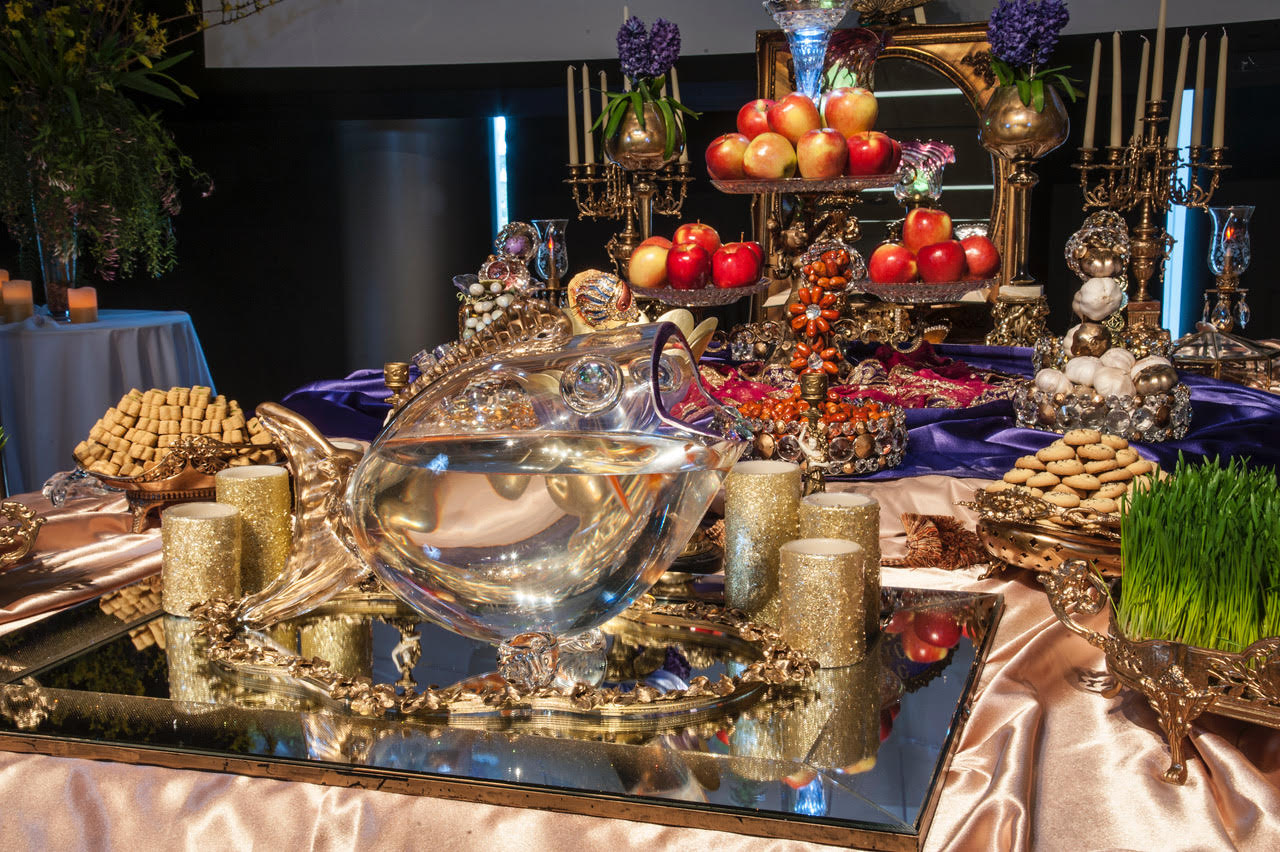 Beyond weddings, the elegance and ornate Sofreh style enhances every type of event:  private parties, holiday gatherings, Christmas luncheons, New Year's celebrations, awards ceremonies, fundraisers, banquets, hotel interior designs, and much more, even film shoots. It is Shirin's goal to design presentations for any occasion, large or small.  Her presentation for the city of Seattle drew about 2000, including many city and state government officials.  Intricate in design and concept, Sofreh presentations shimmer with glass and crystal, and gold, silver and bronze. A table is covered with rich embroidered satin, silk and tulle fabric. The color selection is part of the grand theme and might be based on the client's needs. For example, Shirin's Nowruz table presentation for the University of Washington featured the royal purple and gold Husky colors.
From the time she was a small child, Shirin knew she wanted to be a designer. Even as a child she designed everything in her life, and through the years this talent has led her to be the go-to expert in Sofreh-style design. Well known among the Persian community in the Northwest, Shirin Barekatein has long been involved in many philanthropic projects, but it wasn't until recently that she decided to build on her lifelong design experience to officially launch a business, one she hopes to grow rapidly, so she can build a team and provide work to others.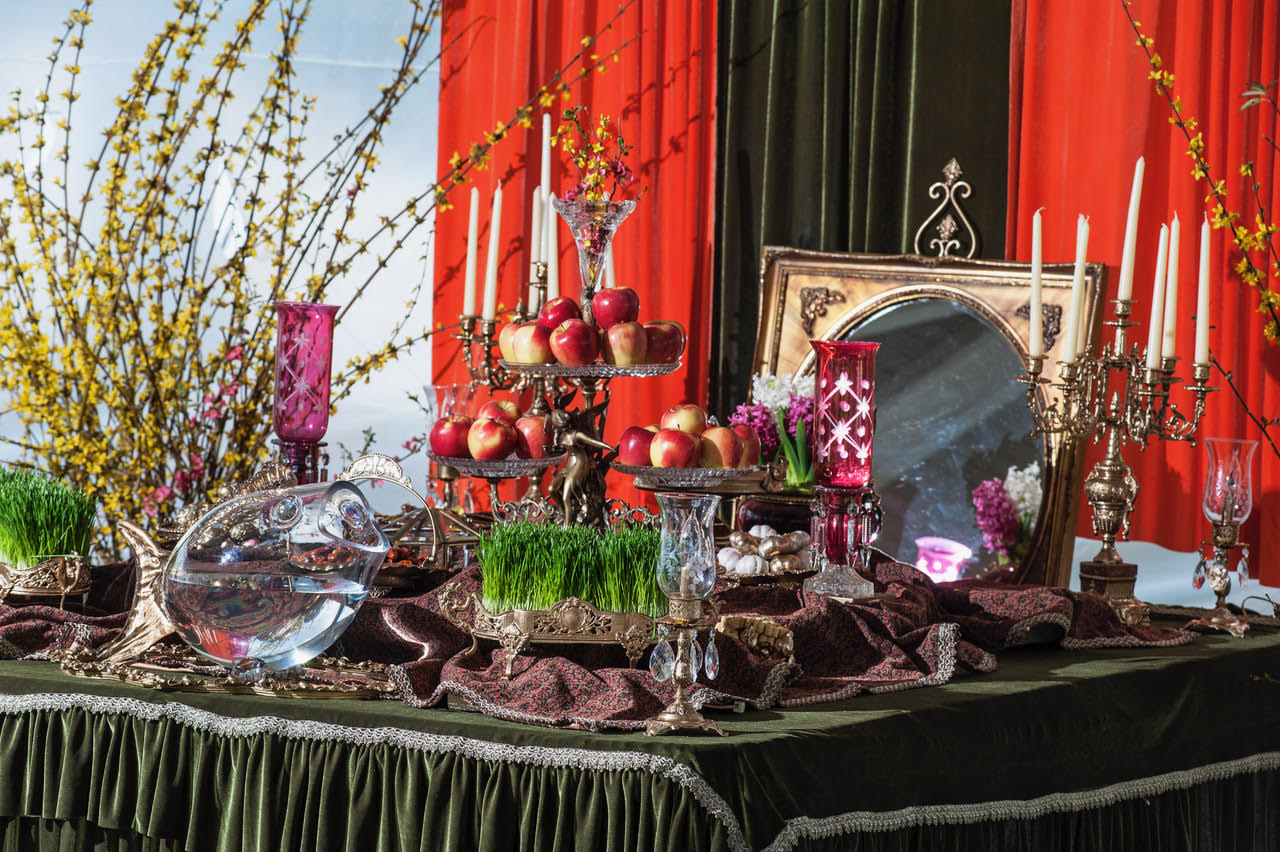 Shirin can work on any location and in any type of room, or wherever the selected venue is suitable for the particular event, and this means traveling anywhere in the world.  Many of the materials she uses are often from her own inventory and include objects of beauty: Murano, Baccarat, Victorian glass, milk glass, also known as opal glass, and Fenton glass. The use of crystal and glass catches light, creates a shimmer effect and transcends the ordinary. Her work is elegant and colorful, no matter which theme or background is used. 
Shirin's clients choose her to design presentations for high-profile events. It is her preference to work for clients who have an appreciation for luxury and a high level of design sensibility. It is important for her clients to understand what she is doing for them, and especially her use of luxurious glass, crystal and precious metals. Her work is highly customized, hand-detailed and time consuming.  "When you know how to blend everything together, the results come out perfectly," she said.
Most important of all, Shirin feels that the thoughtfulness she puts into her work is her way of honoring her clients. No small thing. A sense of honor is deeply rooted in the Persian culture and binds together friendships, family and community connections for generations to come.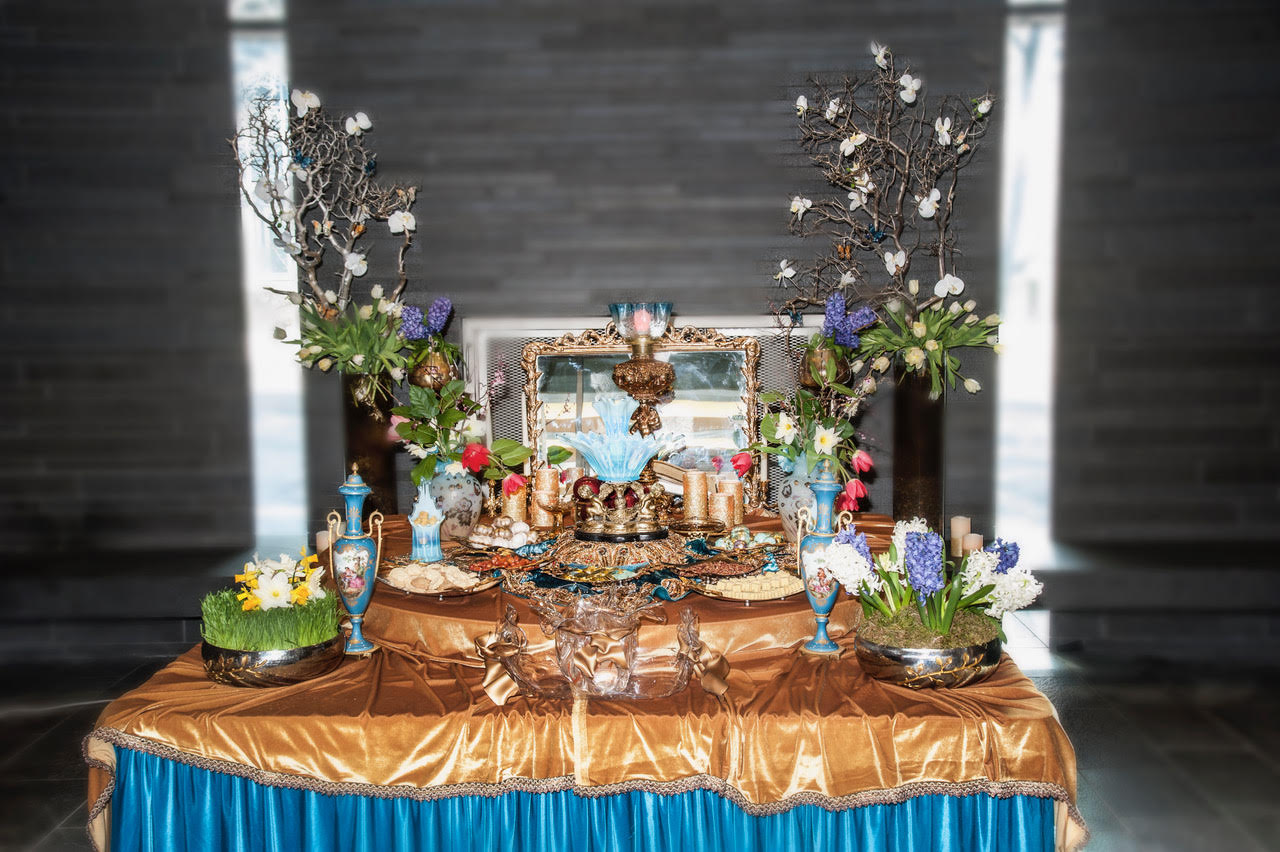 As Monir Zandghoreishi so aptly stated, "Shirin can put things together beautifully. She is the only one who can bring exquisite finery to the table that will stand the test of time."
Shirin's presentations have been covered extensively in media outlets, ranging from Radio Iranshahr to the Seattle Times. Founded in 2018, Shirin Chic Design a national Sofreh-style design firm. Contacts: Shirin +1-425-417-0399, shirin.barekatein@gmail.com.  New website: http://www.shirinchicdesign.com