I purchased a piece of land to build a small 427 square foot house in Quanah, Texas after a process of elimination as all other jurisdictions in Texas and North Carolina would not allow for the building of a house this size within city limits or did not have suitable land available. I considered that it's relatively warm in Texas, yet not too hot in its northern part, and I liked that there are no income taxes in the state. In the summer, it was a pretty green piece of land, and the air and water readings were above the norm. As I have learned more about this area, doubts have been creeping in. The earth here has so much clay in it that building houses on it is not recommended because they have a tendency to sink. There is also a plant next door that processes sand and other materials, building mounds that are eventually exported; this process and the persistent drought send sandy particles through my windows. 
At the Quanah City Council on Tuesday, April 10, 2018, 6:30pm, I learned about a new element that had been previously mentioned but did not strike me as relevant. "Palaura Exploration Company on behalf of Interstate Explorations, LLC" (established in 1998, $5,578,704 in annual revenue, 10 employees based in Cisco, TX) filed a request for a Permit for "Drilling Exploration and Operation for Oil and Gas" directly on the main highway US 287 (nearby the only grocery store within 30 miles), and a second location a couple of blocks away. I attempted to ask for a delay in the permit granting so I could do some research into this matter to come up with some educated questions for Palaura to no avail: the motion passed. So, now, with the luxury of time, I would like to explore the topic of oil drilling in rural Texas to educate myself and you on the environmental and business implications.
Most of the surface land affected by the impending drilling is owned by individuals like members of the Walkup and the Conley families, who have little houses scattered across the radius of the drill sight. Some lots are owned by Hardeman County or Quanah ISD (they hold a lot of foreclosed land; that's how I purchased my lot). A Diesel Service station and the Quanah High School Stadium are located on neighboring blocks.  
The permit application includes several stipulations intended to protect the environment. The Railroad Commission of Texas issued a "Groundwater Protection Determination" that in these locations: "The interval from the land surface to a depth of 250 feet must be protected." They have permission to dig to a depth of 9,500 feet, so just the top portion is protected. If there is any chance the water supply can be contaminated, obviously this would be the deadliest threat to the residents of the city.
The question that I asked immediately upon hearing this proposal was if fracking was involved. The answer to this was "no," but then I found a set of forms in the packet with the heading, "Hydraulic Fracture Stimulation using Diesel Fuel." The term "fracture" seemed to suggest that fracking or fracturing with potentially dangerous materials was involved, but as I read this form now I realize that it is part of a standard Railroad Commission of Texas "Permit to Drill" form. It forbids "Hydraulic fracture stimulation using diesel fuel" without a suitable permit. The execs from Palaura interrupted most of my questions by saying that I did not know enough on the subject to press them further on the details of the type of drilling they were planning. Obviously, I only had minutes to quickly research the subject on my phone at the time, but here is some information I learned since. 
There are some unexpected potential problems related to oil drilling. Timefeatured a story about the spike from one earthquake in Oklahoma in 2007 to 907 earthquakes in 2015, more 3-plus earthquakes than in California.1Oklahoma City is one of the closest major cities to Quanah, so the oil boom and the problems that come with it can have seismic repercussions on this region as well. Timepointed out that it has been 300 million years since "Oklahoma's faults were last active", and yet that there are 0 "seismologists currently employed by the state." 
The administrators of the oil company drilling in Quanah were surprised by even the question of doing an environmental impact analysis prior to drilling. The attitude towards drilling is similar in Texas and Oklahoma: environmental or otherwise scientific research is seen as a hindrance to business growth rather than as a potential safety net against catastrophically bankrupting earthquakes, spills and other disasters. Scientists would also be significantly better at finding the most likely locations for oil reserves, so avoiding them is counter to business interests. Time explains the relationship between oil drilling and earthquakes: "disposal wells, which inject back into the earth the salty wastewater that comes to the surface alongside oil and gas, have been lubricating the fault lines buried deep beneath the prairie floor," making them shift and quake. A similar pattern might be seen in Texas if its oil production becomes more densely concentrated in any given region. Even a 4-quake is likely to demolish my new, uninsured, small manufactured home, which shakes even when wind speeds are above 30mph. 
In contrast to these stark findings, a study of a potential rig in Hermosa Beach, California, has found that oil drilling would have few "negative health outcomes" other than those that are "nuisance-related" in areas of odor, noise and light emissions and aesthetics, and the potential for well blowouts. On the other hand, this same study states that "uncontrolled, project-related chemicals in storm water runoff could be detrimental to the environment and human health."2
This study also found that the location was previously used as a landfill, and that this might cause exposure to high levels of lead from the soil. Perhaps a study of this caliber is expensive, but a miniature version of it surely might help prevent a blowout or other disasters unexpected from only a surface viewing. 
The difference between California's and Texas' oil policies is explained in the conclusion to a study of Los Angeles' oil boom and bust: "In Louisiana and Texas, oil companies wrote state oil conservation regulations to slow oil production and stabilize prices. Conflicts between large and small oil firms defeated similar conservation regulations in California, even though these rules could have prevented damage to and increased production in Venice and other urban oil fields simply by spreading derricks out."3Regions that allow too many oil rigs in a concentrated space tend to see multiplied negative impacts on air and water quality, while these are diluted in places that see scattered drills. 
Still other studies completely contradict these findings; for example, Plos ONEreports dire health-impacts. The difference here is that it focused on "unconventional gas and oil drilling (UGOD), including hydraulic fracturing or 'fracking'" that extracts "from rock formations." The term "fracking" has been in the news in the last decade because of similar results appearing in other studies. Thus, if my local oil drillers are not fracking, this would alleviate the bulk of my health concerns. The details about the method to be used was not specified in the permit application, nor were they given during questioning. There were mentions of water contamination measures and the pumping of water into the wells, so it seems likely that the process is similar to if not identical to fracking. It is very likely that fracking is involved in Quanah because Texas is known for its "tight-oil" production techniques that pump some of these toxic chemicals into the ground. The study found that contaminants from such fracking include: 
Naturally occurring radioactive materials, toxic organics and metals that may enter ground water, contaminating water supplies especially if leakage occurs from casement failure or from holding ponds for waste water. Other toxicants and volatile organic compounds, such as benzene, ethylbenzene, toluene and xylene or radionuclides, have been seen in ground waters impacted by UGOD spills or surface waters receiving UGOD-related waste water… Exhaust produced by diesel trucks and off-site diesel engines, as well as emissions from other UGOD activities (e.g., venting, flaring, compressor stations, etc.) may also affect local air quality with potential impact on health.4
All these contaminates caused higher rates of visits to cardiology, neurology, dermatology, oncology and urology testing facilities in the zip codes where UGOD was employed. These findings are cause for justified fear. One difference between this study in Pennsylvania and this part of Texas is that they have 200-400 wells per county, while there are only around twenty wells in Quanah, and only a few of them have actually produced oil. 
I have been petitioning Quanah to edit their zoning laws to officially allow for the building of tiny houses (their guidelines currently have an 800-foot minimum, but in reality, they allow for houses of any size to be built). I have been arguing that this would allow for new developments to come to this area, thereby boosting the economy. New oil wells certainly achieve some new development in this area, so are the environmental damages significant enough to counter them? The problem for me is the uncertainty. Is it safe for me to live here; is it a good idea for me to advocate for others to build homes here? If the latest water and air tests in Quanah are to be trusted; then, yes, this is a safe place to live. But there was a dark cloud about that City Council meeting that suggested something nefarious. Oil drilling can go catastrophically wrong, as it has in the Gulf Coast Deepwater Horizon spill in 2010 that collapsed the Gulf's tourism, fishing and other industries. So, is the company drilling in Quanah taking this responsibility too lightly? 
During the Palaura permit discussion in Quanah a couple of members of the Council also raised some concerns about the drilling plans. Mayor Pro-tem Nell Looper (in charge of Parks and the Airport, who works as the city's lead librarian), asked: "Kids are kids; they can climb on trees. So, to keep them safe, can the areas where you are drilling be barred off?" The representatives of Palaura (who refused to give me their names) agreed to these terms. Then a younger, dark-haired, male Councilperson asked that they fix the roads around the drill sites, and added, "I would like to ask you to use City water" as opposed to well water. The representative replied: "We plan to do that." I have been proposing applying for additional grants to fix Quanah's unfinished roads and rehabilitating dilapidated buildings. It would obviously be a positive step for the city if it is cleaned up as a result of this oil activity. The city would also see a profit from their utilization of its water supply.
The oldest oil administrator at the meeting (who told me he did some missionary work in Russia, and seemed to be the lead) replied to my questions about fracking by stating: "We wrap the drills in protective coating. It's very clean." I then read from a study that stated that water quality might be impacted by oil drilling to which a tall, rotund administrator with a spacious and polished white truck replied: "I live here too; why would I want to damage the water? I have to drink it too." Palaura's headquarters is in Dallas, while they are a subsidiary of a company located in Cisco. It would have helped if these execs explained who they were, but as it stands it is hard to believe that any of them can live in Quanah since their public information does not show any existing successful wells in this area. This discrepancy makes it difficult to believe other statements made by the execs, including the main claim that they are not going to be fracking. 
Regardless of my reservations, they will be "exploring the site for a couple of weeks." In theory, they will update the Council on their progress, but it is also possible that this will be the last I will hear of their efforts. 
Prior to the meeting, the "neighbors were notified," and in theory they signed off on this plan (but it is possible that if I did not learn about it until the Council meeting, they will also be in the dark until drilling starts next door).  
To my question as to why they were planning to drill so close to the center of the city, the younger exec replied: "That's where the oil is." They also argued that those locations are on the outskirts as opposed to within a couple of blocks of the main courthouse. It is a pretty small city, so everything is within a couple of minutes' drive, and most trips touch on U.S. 287, where the drill sites are located. 
In answer to where I might find an environmental study for the proposed drill sites, the rotund exec replied: "Texas does the environmental testing. It's on our website." I tried to look for a website, but www.palaura.comonly has a picture of an oil rig, and no accompanying information of any kind. The parent company also has no accessible website of its own. Meanwhile, when I asked for clarification, he added that the tests he was referring to were "not of this particular site in Quanah. The state only tests if something goes wrong." This is another element that suggests malicious intent. Why point a researcher to a site without the information you say is located there? 
After the meeting, I spoke with the City Administrator, Paula Wilson. I asked her about some of the previous water tests that showed the presence of some chemicals in the water that led the city to be penalized by the testing agency in a previous year. I wondered if these failed results might have been related to oil production in the vicinity. She said the failed tests were caused by pipes that had not been emptied or cleared for a while, and accumulated sediments. She also said that tests that failed in individuals' houses might have been caused by their pipes being contaminated, and not the main pipe lines operated by Quanah. She explained her position on the matter: "If they strike oil, they provide taxes for the city, but at most of the sites within the city limit, they have not struck oil. Only a few have." On the bright side, affected residents naturally "make a profit if there's drilling near or on their land." She concluded our discussion by joking about the whole oil drilling and potential pollution business: "Ignorance is bliss, I guess."
Living in Quanah is clearly risky: tornadoes hit it at least a couple of times per decade, 2-3-inch hail falls at some frequency (occasionally seriously denting up cars), wind gusts go up to 65mph, and there are "we are armed; we don't call the sheriff" signs on some doors. Given all the dangers of poverty and natural disasters, is oil exploration a solution or a problem in this region? These types of conundrums are being faced at an increasing number of oil drill permit application hearings across America. Given that the health of the population is at stake, it is particularly troubling that there are no clear federal guidelines to prevent fracking or other methods that have been proven to cause harm to individuals' health, or to the health of tectonic plates below us. I had said to Paula Wilson that Quanah's City Council is the "government" that is charged with assuring the well-being of its residence against potential harm unregulated drilling might cause; she replied that it was not Quanah that had this burden, but rather the state of Texas. I have never attended a state environmental impact hearing before, and I doubt average citizens can easily access these. Seismologists and other environmental scientists should be attending these and helping to screen out deadly extraction methods; if the USDA moderates what goes into our food, surely there needs to be accountability for what goes into our oil production.
Clearly, states that rely on oil and other natural resources cannot deny science, or nature will carry out its own stern replies to rampant overdevelopment in floods and earthquakes. The cost of fixing catastrophes after they strike is always higher for the majority than the profits gained by a few.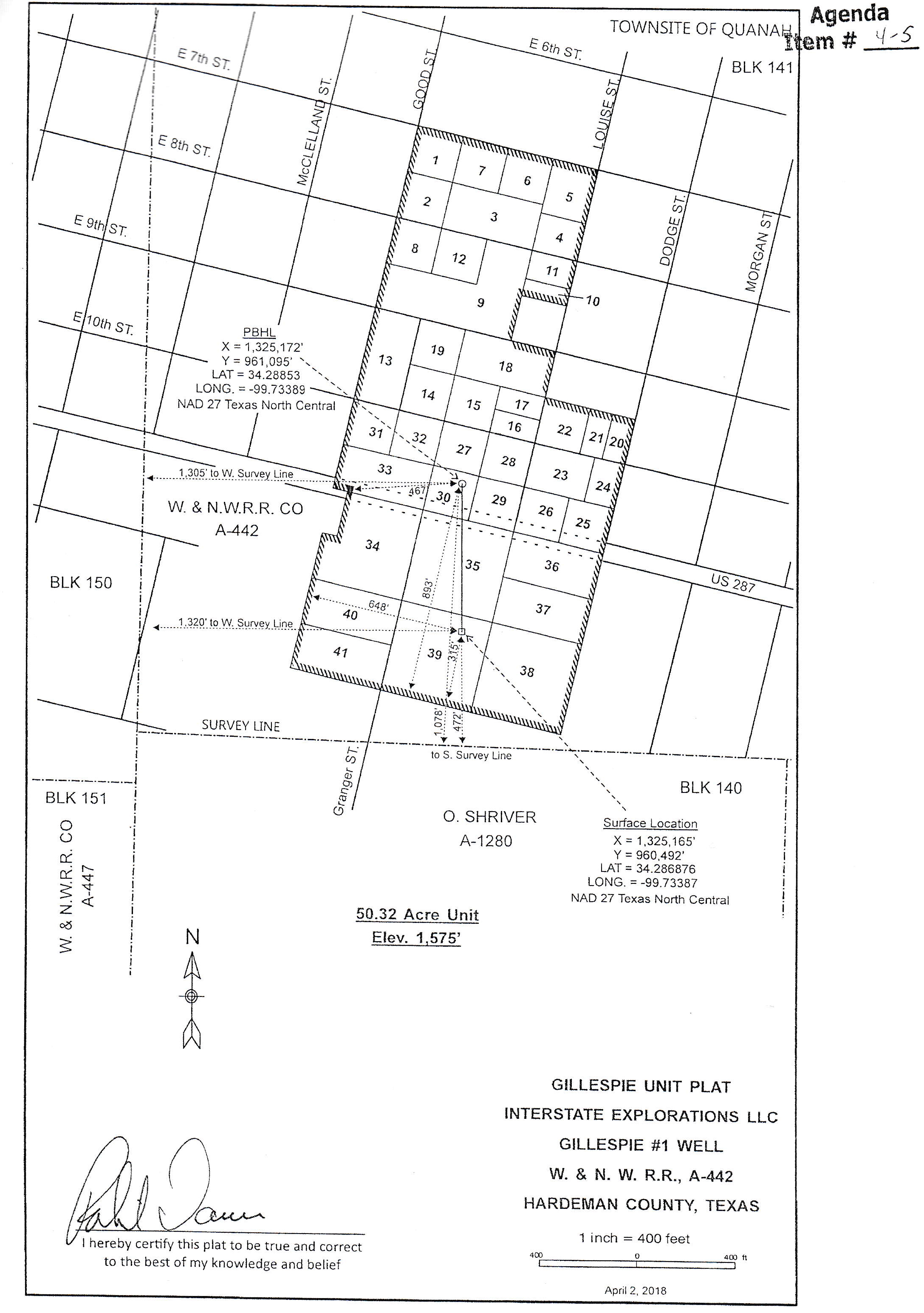 Citations
Josh Sanburn. "In 2007, Oklahoma Had One Earthquake. Last Year, There Were More Than 900. What Happened? Greed, Politics and the Biggest Oil Boom in Decades." Time 187, no. 10 (March 21, 2016): 36-41. Academic Search Complete, EBSCOhost (accessed April 15, 2018).
Lindsay C. Mccallum, et al. "Health Impact Assessment of an oil drilling project in California." International Journal of Occupational Medicine & Environmental Health29, no. 2 (March 2016): 229-253. Academic Search Complete, EBSCOhost (accessed April 15, 2018).
Sarah S. Elkind. 2012. "Oil in the City: The Fall and Rise of Oil Drilling in Los Angeles." Journal of American History99, no. 1: 82-90. Academic Search Complete, EBSCOhost (accessed April 16, 2018).
Thomas Jemielita, et al. 2015. "Unconventional Gas and Oil Drilling Is Associated with Increased Hospital Utilization Rates." Plos ONE10, no. 7: 1-18. Academic Search Complete, EBSCOhost (accessed April 15, 2018).
Anna Faktorovich, Ph.D., is the Founder, Director, Designer and Editor-in-Chief of the Anaphora Literary Press, which has published over 200 titles in non-fiction, fiction and poetry.