This tale was inspired by the anecdotes of Tim Phelps who lives in the Allenspark community, and is a childhood friend of editor and publisher Patricia Vaccarino.
There is a sense of rugged individualism and a pride in self-reliance that pushes people to live far from the conveniences of city life, in tiny communities hidden by the trees and difficult to find, even on a map. Once, I answered that siren's call and learned not so much about self-sufficiency as community. Allenspark, Colorado, is another such place.
Although it's barely more than 35 miles northwest of Boulder, the tiny town is nearly an hour's drive on steep and winding mountain roads. Nestled in the forests near Rocky Mountain National Park and the Arapahoe and Roosevelt National forests and not far from Estes Park,  Allenspark has about 150 or fewer year-round residents, with more scattered throughout the nearby mountains, The community consists of not just the town itself but includes the wider boundaries of the local Fire Protection District that, like so many small rural communities, is staffed by volunteer firefighters, people who leave their day jobs to battle flames and try to protect their neighbors' homes and families. People like Jeremiah Oldham. 
"The town of Allenspark is really little. Inside the town limits, in the winter, it's probably less than 150 people but there's a lot of homes scattered out through the mountains that still consider Allenspark its town," Oldham explained in a telephone interview. "Even myself, I live about two miles from Allenspark, We have some people that live within our district, our Fire Protection District, that would take 45 minutes to get to their place; they're off the grid, way back in the mountains." We spoke barely two weeks after his town was threatened by one of the massive wildfires that burned throughout the West this summer and fall.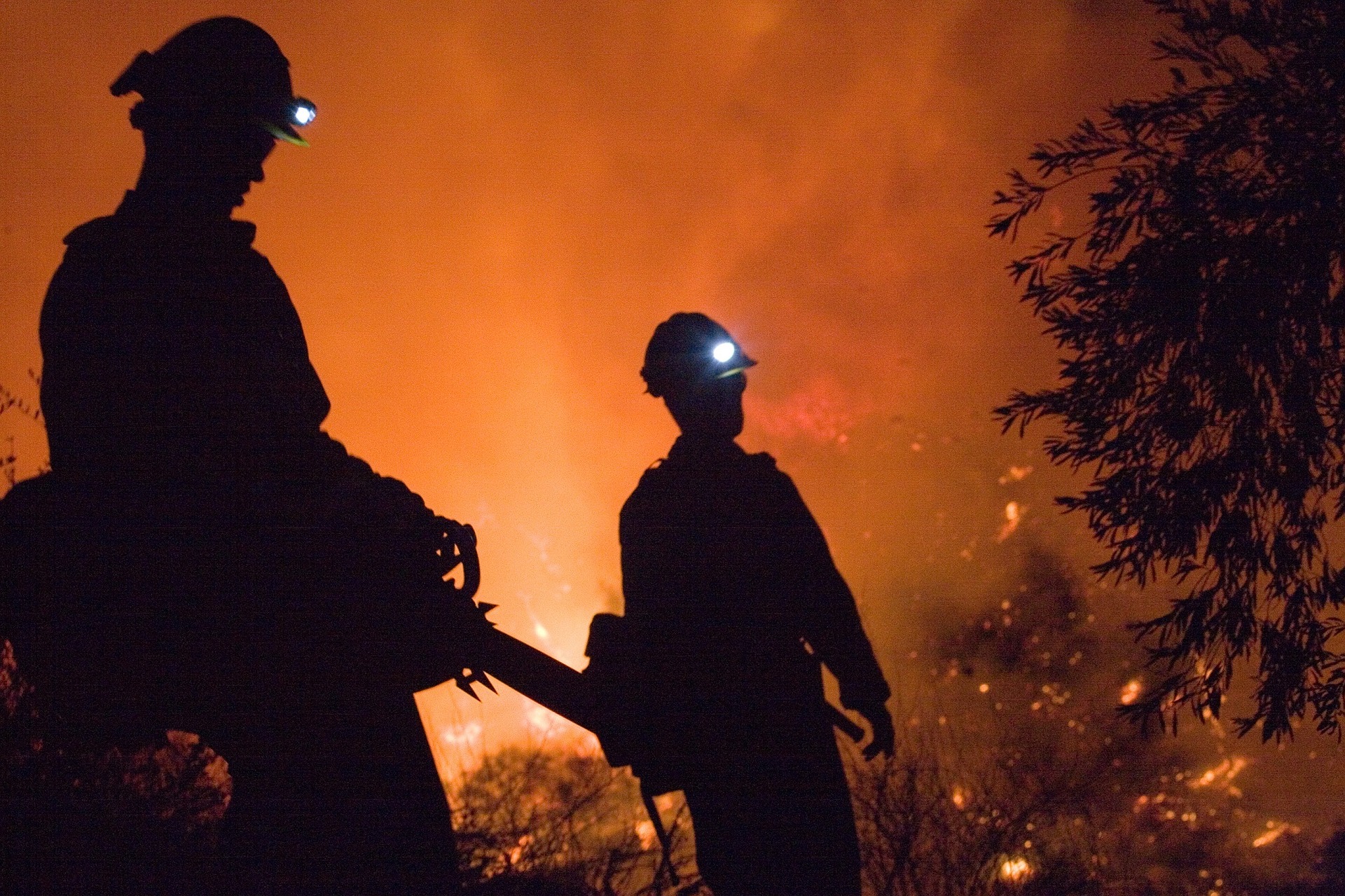 "It ended up being the second fire," he said, "that gave the town of Allenspark its biggest fear." The Calwood Fire started about seven miles to the east of Allenspark on October 16, but it spread eastward from there, so it never came close. But, a week later, the East Troublesome Fire, which had been burning for some time further west, grew by 150,000 acres in two days to become one of the most destructive fires in the state's history.
"I was working the Calwood Fire on Friday, so I didn't keep up much with the news on Troublesome," said Oldham. "We never thought it would get even get to Grand Lake. And, once it got to Grand Lake, we never expected it to come up and over the Continental Divide and Rocky Mountain National Park. There's just too much land above tree-line in that area," he explained. 
"Then, we woke up Saturday morning to the news that it had jumped the Divide and it was burning in Rocky Mountain National Park on our side of the Divide." But it did. In the early hours of Saturday morning, Oldham and the other volunteers from Allenpark took their fire engines up the road and joined other fire departments in fighting to protect Estes Park from a fire generating sustained winds of 50 miles per hour. Fortunately, the fire never escaped the national park's boundaries, though it came close. "From the park to where the limits of our fire district is, I'd say it's about three miles," said Jeremiah Oldham.
It was not just firefighters from the VFDs and the hotshots who travel from state to state to put down wildfires that answered the call of community in the high Rockies that week. Oldham said the fire station also serves as a community center of sorts and, when the crisis hit, people responded with kindness and generosity. 
"The amount of food we had brought up by residents," Oldham recounted, "was just a constant stream of people coming in with food and desserts. Then, the neighboring fire stations, they were coming up bringing trailer loads of snacks and water." 
And more: "When the fire started, they turned off the power to several sections of our community, which brought on fears of frozen pipes because seven, eight days after the fire started, we got a cold snap with a lot of snow," he said. "The majority of homes up here are second homes, vacation homes, and most of those folks were already gone for the season. So, there were a lot of year-round residents checking in on their neighbors' vacation homes." 
In a meditation on the good that is revealed in the light of tragedy, another year-round resident of Allenspark, Tim Phelps put it this way:
"We are able to see our own mortality; we open our hearts in a way we don't always allow ourselves to do. These moments of natural disaster bring us to that place. … I know that heightened state isn't capable of being maintained for long periods of time, but I can see the beauty in what that could create as I see the beauty of what happens when our hearts open," he wrote. "I see how so many came together, to work together, and help each other selflessly, and it looks like a beautiful orchestra creating the most amazing music in some dangerous and chaotic way, but beautiful, all the same."
As this article was being written, fires still burned in the forests around Allenspark, although the welcome November snows were tamping them down. So, too did the political fires in the weeks before and after November 2. Yet no one I talked to mentioned the names Trump or Biden, Gardner or Hickenlooper, or said who was a Democrat or a Republican. 
And, it never occurred to me to ask.
Manny Frishberg is a professional journalist and editor whose work has appeared in numerous publications, ranging from Wired to the Seattle Times. He also writes fiction, books and short stories.