This is a story about the nation's transportation infrastructure, but we're going to begin by talking about pot pies rather than potholes. 
   There's probably no one better to hold forth on the subject of those tasty little savory pies than Logan Niles. A self-described "flour whisperer," Niles is the founder and CEO of the Pacific Northwest-based Pot Pie Factory. Trained at the Culinary Institute of America in Hyde Park, New York, she went on to operate Blue Nile, an upscale private catering company in New York City, for a decade before relocating to Seattle.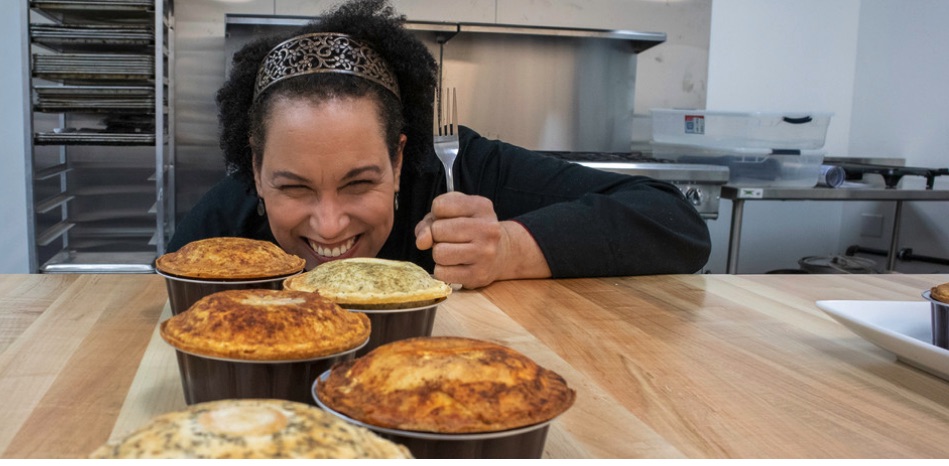 Since 2016, she's focused on conjuring up succulent pot pies – the ultimate comfort food – combining fillings simmered to perfection with herb-studded, buttery crusts. Among her mouth-watering offerings: barbecue pork pot pie, salmon chowder pot pie, and of course the all-time favorite, classic chicken pot pie. She also creates pies that are gluten-free, halal, paleo or vegan. 
   It was just last year that Niles made a big move to scale up her business, and she chose a location in West Seattle. Located on a peninsula just across Elliott Bay from downtown Seattle, West Seattle is a community of tree-lined streets, well-kept residential homes and condos, and shopping districts filled with eclectic small businesses. Niles dreamed of expanding from strictly online sales to open a bricks-and-mortar establishment also that would serve the family-friendly neighborhood. But in the meantime, the location was just a hop, skip, and jump across the West Seattle Bridge – a soaring high-rise span with a great view of the downtown skyline – to the SoDo warehouse district where most of Niles' suppliers were located. All the pieces seemed to be fitting nicely into place.
   Then the coronavirus pandemic hit the Seattle area early last year. That put a temporary damper on the idea of a dine-in space, but Niles' online business thrived as people abiding by stay-at-home guidelines ordered pot pies – the ultimate comfort food. 
   Then came another gut-punch. West Seattle's primary connection to the rest of Seattle – the bridge that Niles and 100,000 other travelers every day used to access the rest of the city – was abruptly shut down in March 2020 when engineers discovered several alarming cracks in the concrete of the 40-year-old structure. West Seattleites had to detour miles out of the way to get to their destinations. That was manageable, at least, while the stay-at-home order was in effect. But once Covid restrictions eased and people started heading back to work, the traffic congestion became intolerable. More than a year later, the bridge closure is still in effect.
   Niles may be the flour whisperer, but her voice rises as she describes the stress she's had to deal with since then. It starts with the perishable products she's trying to get back to her kitchen: "We're getting fresh produce, fresh vegetables, raw protein, dry ice." But suppliers won't make deliveries to West Seattle any more, so it's up to her to go out to sit in traffic jams, both coming and going, to procure the ingredients the business needs. 
   While she and some other West Seattle businesses had been granted restricted emergency passage across a smaller, lower bridge, city transportation officials have tinkered repeatedly with the timing and the access rules, introducing so many caveats that businesses find themselves mired not only in traffic jams, but also confusion.
   "I don't have 45-minutes to an hour to wait in traffic one-way – it's incredibly cumbersome to businesses," Nile says. "at the end of the day I'm almost running this business alone so I don't have the wherewithal."
   The bridge closure also affects how her pot pies go out. Niles had been using Uber and Lyft drivers for her deliveries, but with the daunting traffic sometimes those drivers don't even bother to show up.
      Nile says she's tried to hire help. "We've been trying to hire for months, but then [prospective hires] look at the commute…."
   And so a plucky little business that makes delicious pot pies ends up being a story about a bridge that's going to pot. Emergency stabilization of the bridge has been completed and another phase of repairs is slated before the bridge can be reopened. Earlier this summer the project received a federal grant of $11 million to help pay for the next round of repair work. At this point, city officials anticipate that the bridge will reopen next summer.
   This, of course, is only one small business's frustrating story about one deficient bridge. According to the American Society of Civil Engineers (ASCE), there are over 45,000 bridges across the nation that are considered structurally deficient and in dire need of rehabilitation or replacement. A recent estimate of what it would take to address this country's backlog of bridge repair: $125 billion. 
-----
   One of the most concrete measurements of the Biden administration's campaign to Build Back Better will lie in the success or failure of his proposed infrastructure agenda, for it is the bridges, roads, railways, dams, tunnels, power grids, drinking-water and wastewater systems and more that provide the fundamental physical support of our society. 
   This past March, Biden put forward his American Jobs Plan. In addition to containing the more traditional elements of an infrastructure bill, Biden also folded in goals having to do with green energy, research and development, workforce support – and singling out workers in the frequently overlooked caregiving sector for special attention. The price tag: over $3 trillion. 
   This would be an unprecedented level of funding for infrastructure, but as shocking as that figure sounds, the ASCE assesses it would actually take double that amount to restore the nation's aging infrastructure. For more than two decades, the ASCE has released a quadrennial Report Card for America's Infrastructure, and although the 2021 iteration shows a slight improvement over the previous report, the overall infrastructure GPA of C- is hardly a glowing endorsement. 
   The 2021 Report Card identifies maintenance backlogs and chronic underinvestment as dire problems throughout the country and across most infrastructure sectors. This year, 11 of the 17 categories the ACSE evaluates were accorded a "D" rating – signifying serious deterioration and a strong risk for failure. This applied to aviation, dams, hazardous waste, inland waterways, levees, public parks, roads, schools, storm water, transit and wastewater. Think about that for a minute. How many of these foundational elements of our economy and general quality of life does any American want to forgo? Four other categories – bridges, drinking water, energy and solid waste – were stuck in mediocrity with a "C" grade. Only two categories were judged by the ACSE to be in relatively good repair – ports and rail received ratings of B- and B, respectively. 
   While infrastructure funding has been demonstrably insufficient for a long time, it has rarely occasioned a deeply partisan rift in Congress. Generally, spending on infrastructure has been something that both sides of the aisle can agree upon, because what politician doesn't want to see the potholes fixed in his or her home district? But these are not typical times. To many elected officials, the notion of bipartisanship has become a foreign concept, and everything has become a bone of contention – even those measures that plainly would serve the common good.
   To be fair, even in less fractious times, Republicans probably would have balked at the price tag for Biden's plan. And while the President anticipated that and put forward a proposal for how he would pay for his big ask (Biden wanted to raise more than $4 trillion in revenue by increasing the corporate tax rate, by taxing capital gains as ordinary income above $1 million, and by applying payroll tax to annual incomes over $400,000), Republicans stood on principle and boldly refused to consider hiking taxes – on the wealthy. 
   Given the political environment, too, there's been an unabashed calculation on the part of Republican leadership not to risk giving the Democratic president a big win on a plan with such an ambitious scope and far-reaching impact. The next Congressional elections are just a year and a half away, and strategizing for that campaign has already begun.  
   But there were some Senate Republicans who were willing to deal, and so began the bipartisan slicing, dicing and spicing of an alternative piece of legislation that will allow at least some Republicans to vote for a more modest infrastructure bill. By the time you read this, Congress may finally have voted on the bipartisan infrastructure bill. The final cost has been bouncing around, but as of this writing, the bill has been shaved down to about a billion dollars. Nearly $600 million of that amount is new spending that will be devoted to transit, highways, bridges, and other public works projects.  
   Since we started out this article by talking about bridges, we'll single out that number first: about $40 billion is being dedicated to bridge repair, rehabilitation and replacement in this budget. The White House points out that that's the largest investment of federal dollars in bridges since the interstate highway system was built over half a century ago. But don't forget – the ASCE calculated that it would cost more than twice that amount to do the job right. 
   Another $39 billion in the bill will be spent on modernizing public transit and bringing transit service to new communities. One notable green feature will be the replacement of thousands of old buses with zero emission vehicles and the electrification of America's school bus fleet.   
   In addition to this bipartisan bill, Democratic leadership in Congress vows to come back to finish the job with a second bill that they'll try to pass via the reconciliation process. This would handle Biden's additional proposals supporting human infrastructure and climate provisions, including implementation of electric vehicle (EV) manufacture and infrastructure. The additional bill has no known Republican support so it would need to have all 50 Democratic Senators back the bill – which, as of this writing, is not yet the case. 
   Many of the items that will be funded by the infrastructure bill lie within the purview of the Department of Transportation, which avows that its mission is "to ensure that America has the safest, most efficient and modern transportation system in the world" in order to improve the quality of life for all Americans in all communities, and increase the productivity and competitiveness of American workers and businesses.
   That part about "safest, most efficient and modern" is clearly aspirational, but it is not fact. To go back to the topic of bridges just one more time: this year alone there have been bridge collapses in California, Illinois and Washington D.C. And here's a sobering statistic: among industrialized nations, the U.S. has one of the highest rates of road fatalities per capita.  The World Economic Forum's annual Global Competitiveness Report reveals that the overall transportation systems in countries like Switzerland, the United Arab Emirates, Singapore and Japan all outrank the United States. So there is much work to be done.
   When the infrastructure bill is passed, the person overseeing the deployment of this funding in the Department of Transportation will be the 39-year-old former mayor of South Bend, Indiana, former presidential candidate, and recently appointed Transportation Secretary, Pete Buttigieg.   
   The Secretary may be young, but his credentials are impressive: Harvard graduate, Rhodes Scholar at Oxford, an intelligence officer is the U.S. Navy Reserve for eight years, during which he attained the rank of lieutenant and was deployed to Afghanistan. As a presidential candidate, Buttigieg demonstrated that he has a considerable depth of knowledge and is also a quick study. 
   And a fellow Hoosier, Congressman Frank J. Mrvan from Indiana's 1st congressional district, attests that Buttigieg "is well familiar with the value of making investments in our transportation and economic infrastructure, including his work to grow the commuter rail and airport systems in South Bend.  Secretary Buttigieg's knowledge of the value of the participation of local municipalities in unlocking federal dollars will be of incredible value as we move forward…." 
   Buttigieg is the 19th individual to be confirmed as Secretary of the Department of Transportation, which was established in 1966.
   That seems like a relatively recent development, given that much of the nation's transportation infrastructure was already well in place by that time. 
-----
   In fact, the earliest interstate road-building project was actually inter-colonial. The King's Highway was authorized in 1650 by Charles II. It was an ambitious plan to establish a 1300-mile road connecting the colonies from Massachusetts to South Carolina. When the project was completed 83 years later, George Washington was just a tot.
   In 1806, the first road to be funded by the United States was the National Turnpike, also known as the Cumberland Road, which connected Cumberland, Maryland with St. Louis, Missouri. This project, backed by President Thomas Jefferson, was a controversial move at the time. Many politicians felt that rivers and canals were adequate for transporting goods and people. Still others questioned the constitutionality of the project, believing that road building was outside the scope of federal duties and should be left to the states.
   Indeed, many other early infrastructure projects were undertaken privately or by smaller government entities. The Erie Canal was funded by the State of New York, and early railroad construction was financed by private investors throughout the eastern United States – although they did receive indirect federal support from the Army Corps of Engineers, which conducted route surveys.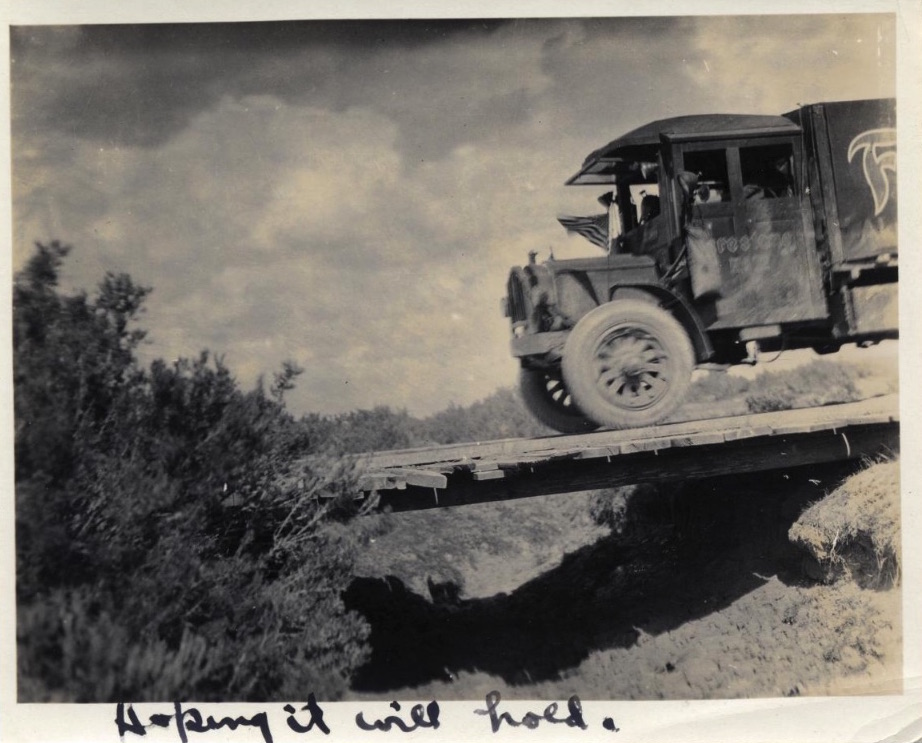 Several military surveying parties were also sent "out West" in the first half of the 19th century to consider possible routes that might be used for a rail line that would traverse the continent. But this became a political hot potato by the middle of the century, as sectional strife between northern and southern states increased. It wasn't until after the southern states had seceded and the Civil War was underway that Congress passed the Railroad Act of 1862 to provide government support for a transcontinental railroad. (It was later brought to light that this monumental project involved both rampant profiteering and bribes of Congressional members.)  
   Just three years into the 20th century, the Wright brothers' completion of the first sustained flight – a whopping 12 seconds! – set into motion the rage for "aeroplanes."  Five short years later, the first municipal airport was built outside of Albany, New York. Many privately funded enterprises also popped up. Even automobile tycoon Henry Ford got into the act, building an airport in Dearborn, Michigan that included modern amenities such as a first-class hotel and a mooring mast for dirigibles. 
   There were airfield building booms associated with both World War I and World War II, as manufacturers needed to get supplies to the troops. But eventually there were so many surplus airports that the military transferred ownership of over 500 of them to local municipalities. This prompted Congress to pass the Federal Airport Act of 1946, which funneled $500 million in grants to improvement and maintenance of airports, and also funded more airport construction.
   Back on the ground, Lt. Col. Dwight David Eisenhower had not seen overseas service during World War I, but in 1919 he was assigned to the First Transcontinental Military Convoy – an operation designed to test the Army's capability in moving troops from coast to coast. The journey involved 79 military vehicles of various sizes and nearly 300 personnel. It extended 3200 grueling miles from Washington D.C. to San Francisco. Eisenhower made a detailed report back to his superiors on the mishaps, mechanical difficulties and challenging road conditions. 
   Years later, as the supreme commander of Allied forces during World War II, Eisenhower experienced the other side of the spectrum when he saw the German autobahn. It was, he said, a "superlative system."
   So when Ike was elected President in 1952, he advocated for a similar highway network across the United States. As the world descended into a Cold War, the paramount argument was that an interstate highway system was needed for civil defense. But Eisenhower's administration also made the case that a modern roads system would reduce traffic fatalities as well as wear and tear on vehicles, and improve the efficiency of farm-to-market delivery.  In 1956, Congress passed the Federal-Aid Highway Act of 1956 to fund interstate highway construction.
   Freeway construction rapidly commenced, but it took another decade before a federal Department of Transportation was established during Lyndon Johnson's administration to coordinate all of these moving parts of the nation's infrastructure. 
   It has become an increasingly complex task since then. Today the Department oversees enough agencies to go into a bowl of  alphabet soup: the FAA (aviation), FHWA (highways), FMCSA (motor carrier safety), FRA (railroads), FTA (transit), GLS (St. Lawrence Seaway), MARAD (maritime), NHTSA (highway traffic safety), OIG (DOT's Inspector General Office) and PHMSA (pipeline and hazardous materials safety).  
-----
   One of the failures of American leadership in government and industry over the last few decades has been the unwillingness to acknowledge that fossil fuel-dependent technologies are destroying the biosphere as we know it. 
   America in 2021 really doesn't have the luxury of time to dwell on the irony that the oldest man ever elected President of the United States may also be one of the most forward-thinking leaders this country has ever had. Biden's ambitious infrastructure plan acknowledges the importance of people and the environment we live in. It provides Americans with the opportunity to give fossil fuel the heave-ho and to commit more fully to wind, solar, broadband, and perhaps even Hyperloop technologies.
   Biden's expansive view of infrastructure may be hard for more conservatively-attuned folk to comprehend, but in his view, in order to Build Back Better – better than Japan, better than the United Arab Emirates, better than China and, most importantly, better for the world – the United States has to make bold investments in American imagination and ingenuity.
Barbara Lloyd McMichael is a freelance writer living in the Pacific Northwest.
Research Sources:
Bipartisan infrastructure bill 
https://www.whitehouse.gov/briefing-room/statements-releases/2021/07/28/fact-sheet-historic-bipartisan-infrastructure-deal/
ASCE 2021 Infrastructure Report Card
https://infrastructurereportcard.org/wp-content/uploads/2020/12/National_IRC_2021-report.pdf
Department of Transportation
https://www.transportation.gov/