As I work through getting my comprehensive Pilates certification I have been interested in how I can improve other peoples lives by using my knowledge in Pilates. My boyfriend was diagnosed with scoliosis, I didn't know much about this spinal abnormality so I decided to find out more about the condition and how Pilates could benefit him and others with this condition. 
Scoliosis is an abnormal curvature of the spine, commonly screened in elementary schools as this is when the condition typically initially develops. Scoliosis effects only about 2% of females and about .5% of males. Scoliosis does not always but can cause pain in your back, ribs or neck. It can also cause muscle imbalances and poor posture. 
Pilates is beneficial for a scoliosis spine helping to improve posture and flexibility and help in relief in scoliosis related discomfort. For people with scoliosis Pilates is beneficial for improving strength, flexibility, posture awareness and to prevent or help to correct muscle imbalances. Pilates can also aid in improving balance.
Following any spinal fusions you would not want to or be able to do any spinal rolling up or rolling down movements. Movements that create hip and pelvis stability for example if your spine will allow bridging is a very beneficial movement for people with scoliosis.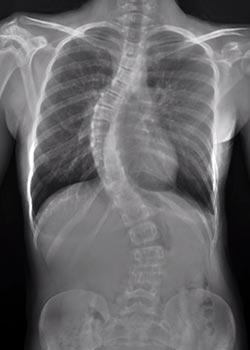 This is just one population of the world that is benefitted by Pilates, there are benefits to Pilates for everyone!
For more information, please see:
https://www.thepilatesclinic.com
https://www.a-b-s-pilates.com/pilates