America's arts and entertainment sectors have come a long way in reflecting this country's demographic diversity, and with movements like "#OscarsSoWhite" and "#HireTheseWomen," glass ceilings continue to be shattered. But representation doesn't necessarily equate to equitable access. And while many previously excluded groups are gaining ground in this woke era, there is one demographic that is still pretty much left behind: the neurodiverse community. Society still has trouble accepting people who learn or think differently from the mainstream. 
   From an early age, the neurodiverse are treated as people with disorders. They may be segregated in their schooling, or treated at arm's length by their peers.
   But in Maple Valley, Washington – which is not just Brandi Carlile's hometown but also a community that seems to attract art lovers with can-do attitudes – the founder of the Maple Valley Youth Symphony Orchestra began to detect an unmet need. 
   When Elisa Lewis began the MVYSO, it was to give young musicians a chance to perform repertoire written for orchestras and smaller ensembles. Although her college degree was in recreational therapy, she had thoroughly enjoyed playing a musical instrument throughout her school-age years, and she wanted to provide the next generation of students with the same opportunity. 
   The organization grew quickly. Before long, MVYSO encompassed four different orchestras playing at different levels of experience. As students developed their musical skills, they could advance through the groups and perform increasingly complex music. 
   But Lewis had become aware of something: "We had an oddly high proportion of students who had siblings with special needs."
   She knew the president of the local school board, who acknowledged that those kids did not have access in school to a music program tailored to their needs. 
   "So I went, 'Hunh, maybe we should be doing something.'"
   One of the MVYSO moms happened to be a musical therapist, so Lewis teamed up with her to design "a nonsequential, clubbish, music thing for these kids... an opportunity for them to play and do things at their own level." They called it Jam Club.
   With a dearth of other options for neurodiverse kids in the area, the concept was already catching on when one day it expanded exponentially. Lewis's phone rang an hour before Jam Club's regularly scheduled meeting time. The caller was a woman who had adopted five special needs kids. She wanted to enroll all of her kids in Jam Club and she would be bringing them in – that afternoon.
   Lewis knew she needed more hands-on help to manage the class. As soon as she got off that call, she began frantically dialing up MVYSO students to see if they could come lend a hand. Although born out of desperation, this last-minute measure proved to be a success – the helpers she brought in loved the experience.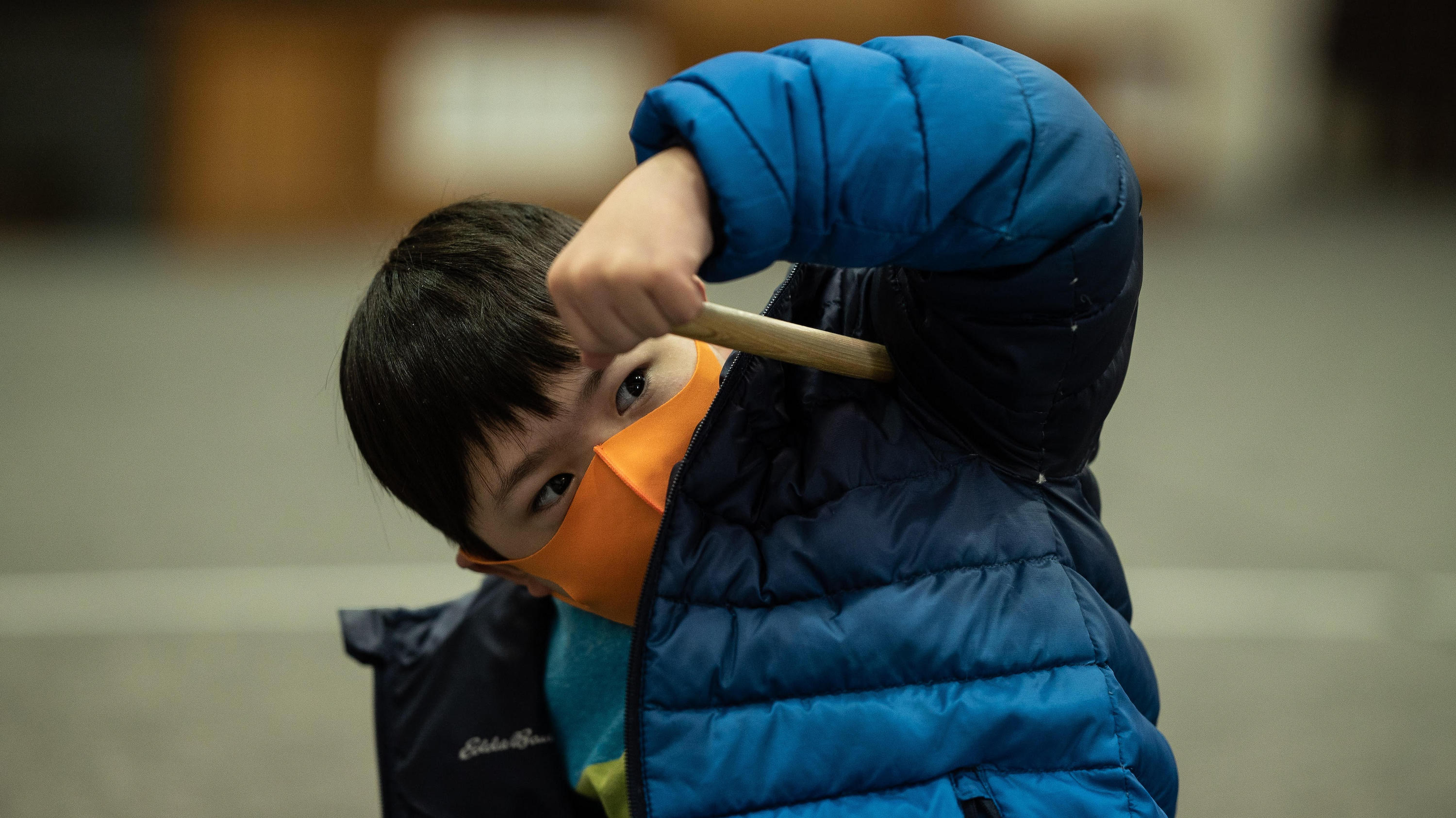 And so the second component of Jam Club was formalized: Music Buddies are neurotypical students from MVYSO's orchestra programs who now volunteer regularly with Jam Club and form close relationships with Jam Clubbers.
   "It's like mainstreaming, but from the opposite direction," Lewis says.
   She notes that the relationships that begin in Jam Club extend into the regular school day for these kids, too. Now when Music Buddies and Jam Club kids bump into each other at school, they exchange high-fives or have lunch together. They attend each other's birthday and graduation parties.
   "Having fun with music is great," Lewis says, "but social connection is a WIN!"
   Jam Club has grown since those early days. It, too, has expanded into four groups – three are age-related, ranging from preschool to recent high school graduates, and there's also a drumline cohort. Jam Club continues to operate under the MVYSO umbrella, and Jam Clubbers participate in two of MVYSO's regular concerts every year, performing their own songs and also accompanying the other orchestra groups for one or two pieces. At the last Christmas concert, Jam Club joined the jingle bell section for the concert's grand finale of "It's Beginning to Look a Lot Like Christmas."
   Lewis recently retired from MVYSO, but not before hiring music therapist Elizabeth VanSant three years ago to lead the Jam Club program. 
   As a child, VanSant was diagnosed with a chronic illness and discovered for herself the therapeutic value of music. Playing piano was her way of managing the anxiety she felt. 
   When she went to college, she pursued a career in music therapy, even though her degree program and her field internship emphasized behavioral therapy – both cognitive and applied. 
   But VanSant's experiences with the Jam Club kids, as well as the challenging times that we've all been living through – pandemic, George Floyd's murder, and more – have made her question that conventional approach. 
   "Focusing on changing behaviors makes it easier for caregivers to get through the world," VanSant says now, "but behavioral therapy is traumatic for the patient." 
   She has begun working to change the thinking around what music therapy can provide. In a recent presentation she made to the Music Therapy Association of Washington, she talked to her colleagues about understanding that neurodiversity is a part of human diversity, and the therapist's work with a client should come from a place of acceptance, not reform.
   Today she calls herself a "neuroaffirmative" music therapist. 
   "I'm not here to make my students look neurotypical," VanSant stresses. "I want to give them support so they can function, and help them learn accommodations they need and how to advocate for themselves."
   Van Sant is dedicated to helping Jam Club participants foster relationships and build community.
   She talks about the thrill of "seeing a light bulb come on" when students who typically have a hard time relating to other people are freed up by the music to explore their creativity and connect with others.   
   And she notes that while group dynamics can be tricky sometimes, and those Music Buddies are a big help in making sure everyone stays safe, one of the qualities she appreciates in her neurodivergent participants generally is their tolerance for one another.
   "What's really great about neurodivergent and disabled individuals is they recognize that everyone has their own needs and you can't judge a person for what their needs are."   
   At Jam Club, she says, her approach is to make sure that everyone feels comfortable and welcome. 
   And her goal for each student? "To make sure that I am giving them what they deserve as a human being."
Barbara Lloyd McMichael is a freelance writer living in the Pacific Northwest.
Photo credit: Derek Edamura