Last winter as the Whitney Biennial got under way, sculptor Larry Bell found the museum's fifth floor deck a fine place for his large-scale piece, "Pacific Red." The series of six massive glass red cubes with smaller cubes inside was visible from his room at the nearby Standard Hotel where he stayed during the installation last March. Even better, "Pacific Red" was visible from the Empire State Building.
"The original installation was brutally difficult because of the winds and the cold. But we got it up," Bell recalls those winter days, sitting back behind his desk in his Venice studio. "Each of these parts weigh 350 pounds, and to be carrying a sheet of glass, 6 by 8, in a 45 mile-per-hour wind and 30 degrees is dangerous, to say the least."
He credited his crew for the accident-free installation, particularly the foresight of leveling floor panels, making the surface perfectly flat. A different perspective came from staring at it from his hotel window. "I think it's probably nicest around noon, when the sun is real high," he shrugs, though he has only seen it in winter and plans a return trip in the spring or summer.
"Pacific Red" first appeared in Hong Kong in 2016, coinciding with Art Basel. At the Whitney, Bell has added three more boxes measuring 6' tall by 8' wide. Inside each is a 6' by 4' wide box in a different shade of red. A variation featuring a series of red glass panes standing 6' tall appeared earlier this year at The Frederick R. Weisman Museum of Art at Pepperdine University. It marks a departure for the 78-year-old Light-and-Space pioneer – an exploration of color rather than an emphasis on the reflective and transmittable qualities of glass, a substance that has come to define his oeuvre.
"Glass couldn't be a more common material. You can buy it anywhere, it's inexpensive, you can do just about anything you want with it. It's got a shelf life of something like 3 million years and a piece of clear glass transmits, reflects and absorbs light all at the same time," says Bell, who began creating glass cubes in the early sixties as a member of the 'Cool School' Ferus Gallery. "I always thought it was a magical material."
Curated by Walter Hopps, (whose nickname for Bell was Ben Luxe, 'son of light'), Ferus represented illustrious names like Ed Ruscha, Billy Al Bengston, Ed Moses and Ed Kienholz, to name a few. Bell identified with the "Light and Space" school, including artists like James Turrell, Bell's Chouinard professor Robert Irwin and Craig Kauffman, minimalist sculptors who redefined the medium by making the manipulation of light central to their process. Most of them were broke, working in the studio or trading beers and picking up girls across the street at Barney's Beanery in West Hollywood.
"There was great joy in hanging out with that group of people," Bell reminisced about a bunch of old friends who occasionally still see each other. "The key to making things work was everyone had a sense of humor about how difficult it was and sort of celebrated that all the time. Somehow, if life is always a celebration, you make it through pretty good. The social part was fun. The studio activities were even more fun. But they were personal, in your own scene doing what you wanted to do."
While Hopps had a visionary approach to the gallery, he also had a head for business, (compared to the rest, anyway). In 1963, he struck a major coup bringing the first Marcel Duchamp retrospective to the unlikeliest of venues, the Pasadena Art Museum. In the days before the opening, Bell recalled working in his studio when three men showed up at his door, claiming to be friends of Hopps. One of them spoke with an English accent, and the eldest of the trio spoke French. Born with partial hearing impairment, Bell didn't catch their names until one referred to the other as Marcel. It was then he realized he was hosting Duchamp right there in his studio.
They two met again a year later for tea in New York, at the time of Bell's show at the Sidney Janis Gallery, when his career began to take off. Duchamp was polite and Bell was awkward over milk and cookies in the parlor. "I asked if he was doing any more shows. He said he was working on a selection of early drawings," Bell told "The Guardian" in 2016. "I asked him from what period. He says, 'oh, when I was six and seven.' He had an ironic, funny twist to his humor."
Last January, Bell joined Ruscha, Bengston and Moses at the Broad Stage in Santa Monica to reminisce about the Ferus days. His recollection of the time he opened for Lenny Bruce brought the house down. He was working the door at the Unicorn Club in Hollywood where Bruce was doing two shows a night. The first show went long, and by now the line for the second show was becoming unruly. Finally, the manager pulled Bruce off the stage, but the crowd wouldn't leave. So he sent Bell out to play his 12-string guitar. "After the first song there was no one," he told the audience. "The place was empty."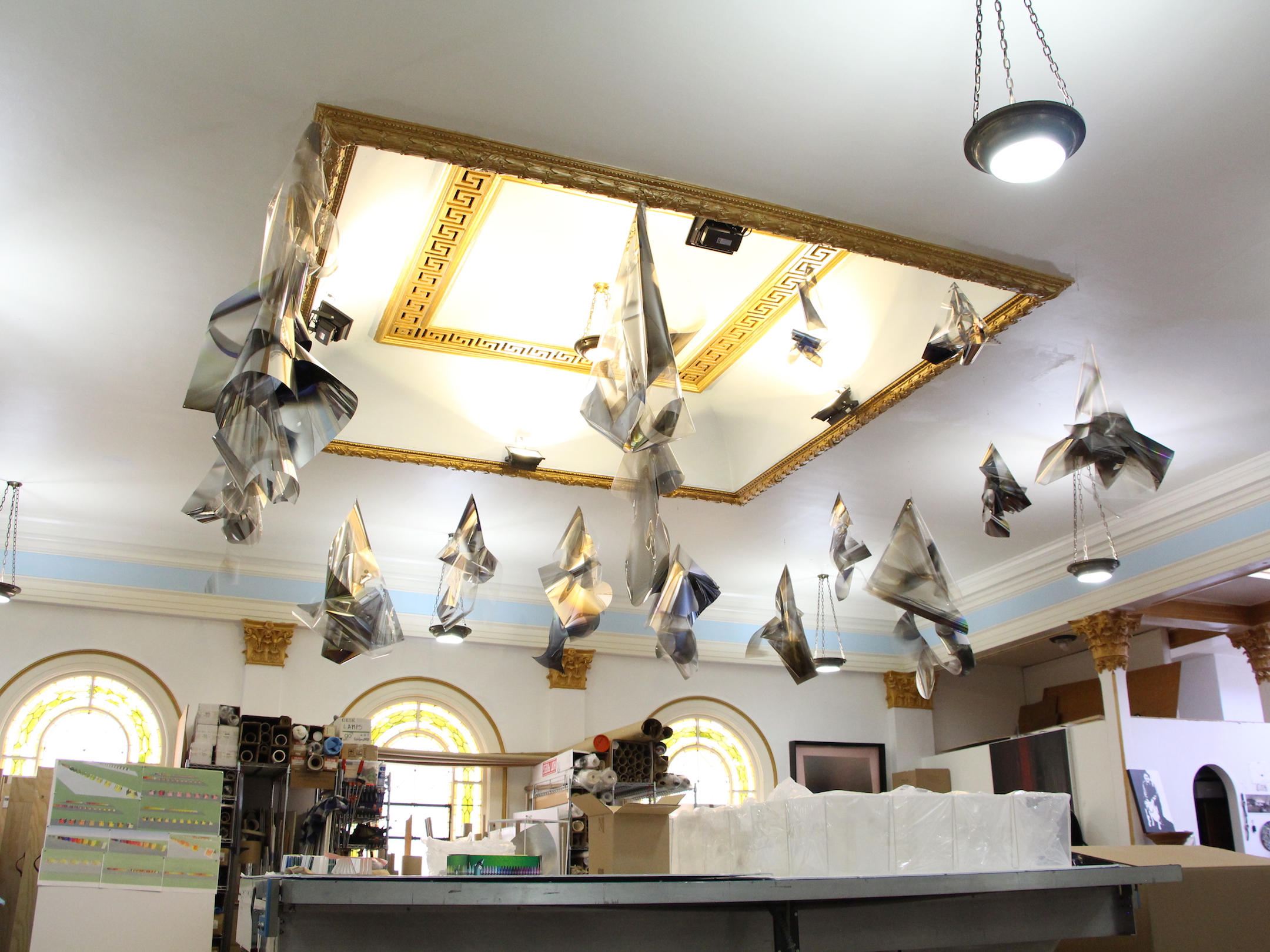 Music is another great love of his, and the guitar is a central motif in his "Church Studies," a multi-year journey into collage originating from his Venice Beach studio, which used to be a Christian Science Sunday school. Figurative and semi-figurative vapor drawings on Mylar, paper and laminate film, the "Church Studies" have been vacuum metalized and fused in a way that actually seems to bend light and color. The same treated Mylar hangs from the ceilings in sculptured forms, which Bell calls "Light Curls."
In late April he'll be in London installing a new show at White Cube, including works from the late seventies, the "Church Studies" and an improvised glass installation, like those he installed in Marfa, Texas, as well as Miami.
"People need shoes, cars, food, clothes, stuff like that. They don't need what I do. I'm thankful someone wants it, but nobody really needs it," Bell says of his artistic output, but doubles back when asked about President Trump's proposed elimination of NEA/NEH grants, of which Bell was a recipient. "I don't know how he could see the NEA as a waste of resources. If anything, it's just the opposite. An artist takes something that has little more value than just a piece of paper and turns it into something that's worth a fortune compared to the cost of that paper. The gross domestic product is tremendously enhanced by the artist."
Looking around the studio at his "Church Studies," the "Light Curls," a bronze figure he designed for a Frank Gehry project that fell through years ago, he sees what he calls "evidence" of where he was at different periods in his life. "That's a piece of evidence of what I did two years ago on February the 10th. And the one next to it is from February 13th. The one that was done on the 10th informed the one that was done on the 13th and so on. In that sense, art is a teacher. It's the energy that is released when you teach yourself what you do. And the leader is the work you did before. You always have access to the future through the work. It's the one thing you can trust. That's how I feel about it."
His eyes settle on a flower petal on the corner of the desk, the inspiration for a new project. Earlier in the week, while at a wake for a friend, he saw it on the floor under the vases. "It was so beautiful I scooped it right up, a gift from the deceased."
Jordan Riefe is an LA-based journalist who writes about arts & culture